We propose a meeting between former New Zealand Attorney-General Chris Finlayson and Britain's newly appointed Leader of the House of Commons, Jacob Rees-Mogg, to swap notes on good grammar and effective communication.  Mind you, we would prefer to steer well clear of any meeting between this particular pair of politicians.  Their enthusiasm for pedantry – we fear – would rapidly become tiresome.
Finlayson, it might be remembered, had a passion for avoiding split infinitives and eschewing the use Oxford commas.
He provided his staff with a list of more than 20 banned expressions.
Rees-Mogg's staff similarly have been directed to avoid using certain words and to address men with the courtesy title "esquire."
According to the style guide obtained by ITV News, Rees-Mogg insists that words including "ongoing" and "hopefully" are banned.
In a call for accuracy he tells staff: "CHECK your work."
The guidance was drawn up by Mr Rees-Mogg's North East Somerset constituency team some years ago, but has now been shared with officials in his new office. 
Other directions include a call for a double space after full stops and no comma after the word "and".
He also set out a series of banned words and phrases that should not be used by his staff
They include: very, due to, unacceptable, equal, yourself, lot, got, speculate, meet with, ascertain and disappointment.
Staff should avoid "too many 'Is"' in their writing, Mr Rees-Mogg will not be "pleased to learn" anything, he will not "note/understand your concerns" nor will he "invest (in schools etc)", and the phrase "no longer fit for purpose" has been deemed no longer fit for purpose.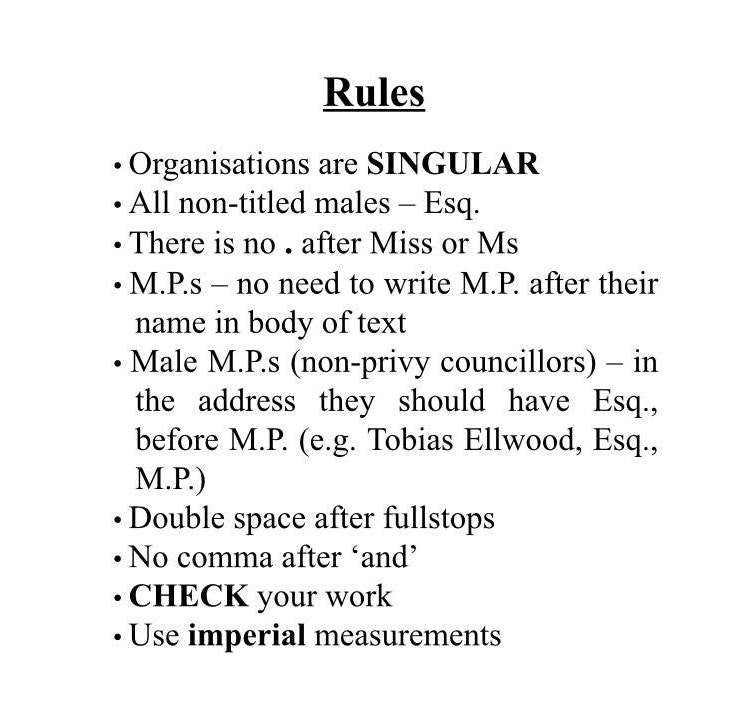 Rees-Mogg – not surprisingly – is nicknamed "the honorable member for the 18th century."
The media in this country a few years back eagerly seized on the 10 pages of guidelines provided to Finlayson's staff, setting out the language the culture minister expects officials to use in correspondence and briefing papers.
It was accompanied by speech-writing instructions, with a list of more than 20 banned expressions.
Staff are forbidden to use "heads-up" and should instead plump for "early" or "preliminary indication".
Also out in his language jihad are "process", "outcome", "community", "stakeholder" and "cutting edge".
Finlayson harboured a special dislike of Oxford commas, split infinitives and any extraneous uses of "that".
The guide revealed Finlayson has a very strict style for his letters. The address must be preceded by eight to 11 blank lines, with four lines for his signature. The font should be Arial, 12 point, and centred. "Don't split paragraphs over pages," the guide warns.
According to the note: "Minister Finlayson addresses his colleagues, support party colleagues and people he knows by first name." Opposition MPs "should be addressed by their last name".
A two-page guide was also compiled for the Ministry of Culture and Heritage as "a list of pointers about things the minister does and does not like in his speeches".
"Use plain English. Avoid waffle at all costs. Get to the point quickly. State the point. Move on," it reads.
"I have always preferred the understatement," Mr Finlayson admitted.
"People use passionate when they mean like, or unique when they mean vaguely fashionable.
"It's like what happened in Rome when classical Roman broke down into vulgar Latin. The more intensive adjective or verb was always used over the classical one. And I have this objection to that happening to the English language. It's just my little jihad."
According to this report on Kiwiblog at the time, Finlayson published his office style guide.
David Farrar especially like the phrases to be avoided:
I note
I am aware
I understand
Delighted
Strategy
Accessible
Outcome
Passion
Passionate
Stakeholder
Community
National Identity
Nationhood
I acknowledge
'Sense of self'
cutting edge
engage
strengthen our voice
shared experience as a nation
Celebrate
Also how to be succinct:
–  Sentences should be as short as possible. Avoid wordy phrases that can be said more simply.  For example, amend:
      –  'in my view' to 'I think'; 
      –  'I am writing to thank you' to 'Thank you';
      –  'you have stated that' to 'you said';
      –  'I trust that' to 'I hope';
      –  'I wish to acknowledge' to 'I acknowledge';
      –  'there are of course' to 'there are';
      –  'I would like' to 'I want';
Farrar concluded the style guide "may catch on!"  We don't see much evidence  it did.